Ze světa aktuálního dění v Plzni
---
---
---
---
---
Tip na víkend: První ročník streetfestu
7. květen 2010
Máme tu druhý májový víkend a počasí se rozhodlo, že nám to náležitě zpříjemní. Ale zase aspoň není horko:). Takže s dobrou náladou, i ve špatném počasí za zábavou, která bude probíhat navzdory přírodním podmínkám i pod širým nebem.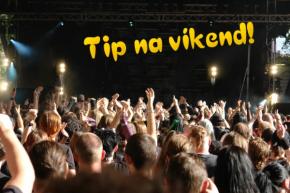 Tip na víkend: První ročník streetfestu
Oslavy osvbození jsou ještě v Rokycanech
Komu nestačily oslavy osvobození konající se minulý víkend v Plzni, může zajet uspokojit své touhy ještě do Rokycan, kde v sobotu od 10:00 hod. začínají Oslavy 65. výročí osvobození. Na pořadu bude hned ráno rekonstrukce skutečné události z května 1945, dále ukázky práce Policie ČR a HZS, ukázky techniky a další obdobné radosti. Program bude nabitý až do jeho konce - 18ti hodin.
V sobotu, pro ty, kdo nejsou chtiví novodobé vojenské techniky, ale u bojů rádi zůstanou, pořádají na hradě Švihov akci s názvem Dobývání hradu Švihov. Kdo se dostaví ve 20:00, bude svědkem šermířsko-divadelního představení a ohňové podívané.
Majáles v Nepomuku
Další vzpomínkou či připomínkou minulého rozjařeného víkendu pak může být i sobotní Majáles v Nepomuku, kde poteče pivo proudem a jeho konzumaci jistě urychlí místní rockové hvězdy:).
Spíše pro rodiny s dětmi pak v neděli od 15:00, a každou další neděli až do konce září, budou probíhat v Plzni Oživené prohlídky. Průvodci nám bude pár v dobových kostýmech a podají zájemcům historii Plzně v pohádkových obrazech. Vzhledem k tomu, že součástí historického plzeňského kolečka bude i občerstvení, vstupné se vyšplhalo až na 200 Kč :(
Street fest
Kdo se nestačil vyřádit přes den, může pokračovat i ve večerních hodinách, a může pořádnou akcí zahájit rovnou celý víkend (pak nejspíš spací:)). V pátek se totiž v klubu Neutral a Pohoda (v jednom domě, žádné cestování nás nečeká, kromě schodů:)) bude konat první ročník Street Festu. Snahou pořadatelů je spojit umění ulice – hudbu, tanec, sport a výtvarné umění – a přiblížit je všem, kdo budou mít zájem. Tři patra dávají prostor třem "stejdžím" s různou hudební tématikou (převážně pak hip hop, ska a reggae) a různým akcím (např. SK8 beatle v minirampě, což je zajímavé, protože nevím co to je:)). Vstup symbolický – 50 Kč, a to se asi vyplatí:)
Pro jednotvárné pak v Buena Vista Clubu v sobotu zastihnete Hugo Toxxxe s Vladimirem 518, kdo je nezastihl na Majálesu.
No a nakonec – vezměte květinářství útokem, mamky (všechny!) mají totiž v neděli svůj Den:)
Nezbývá než dodat: Užijte víkend!
Zobrazeno: 14116x
Sdílet
Reklama
[Nahoru ↑]
---
Hodnocení
Hodnocení: 2.33 hvězdiček/ Hodnoceno: 6x
---
Vložit komentář
Komentáře
---